A dull bang sounds. Then another one a moment later. "Did you hear that?" asks Yevgeniya Sgerya, visibly nervous. "It must have been the wind shaking the tent," someone says. "No, it came from further away." Yevgeniya's mother calls into the tent from outside, "Maybe it was bombs." This is possible because just a few hundred meters away, behind a long fence, is Ukraine. With the war in Ukraine, you never know when or where the bombs will hit.
The bombs came closer and closer
In the case of the Sgerya family, the bombs hit close by last night – not for the first time in this war. Yevgeniya, 46, lives with her five children and 10-month-old granddaughter in a village of 5,000 people east of Mykolaiv in southern Ukraine, near the Black Sea. When the war started on February 24, the first rockets targeted the military airfield in a neighboring village. The next day, after more explosions, the electricity went out. Soon there was no more gas or water. Neighbors met in the evenings around a campfire to stave off the cold.
After two weeks, living like this was no longer possible and Yevgeniya asked her children to pack the bare necessities. Together, they went to Mykolaiv, where her parents live. She hoped a big city would be safer. But last night, right next to their apartment, bombs suddenly fell on the turbine plant where Yevgeniya's father Aleksandr had worked until a few years ago. That's when they decided to flee together – preferably to the United States, where they have relatives, but the initial goal was to get out of Ukraine as quickly as possible. At seven o'clock in the morning, they boarded a bus alongside other people on the run. Four hours later they arrived at the Palanca border crossing in southeastern Moldova – haunted by the fear of being hit by a bomb the whole time they traveled.
A place for mothers and people with disabilities
Now Yevgeniya and her parents, her five children aged 12 to 21, and her granddaughter Alisa are sitting in one of the tents provided by the Swiss Agency for Development and Cooperation (SDC) and set up by Helvetas at the transfer point in Palanca, about four kilometers from the border crossing. Here, local staff provide particularly vulnerable refugees with the most basic necessities: mothers can breastfeed and change their babies under shelter, and the elderly or those with a disability receive meals and are cared for. This includes 67-year-old Aleksandr, Yevgeniya's father, who had to have both legs removed a few years ago because of severe diabetes. For him, the travel from Mykolaiv was particularly arduous; he is relieved to be able to catch his breath here in the insulated and heated tents. His 21-year-old granddaughter Viktoria, Yevgeniya's eldest daughter, who until the night before had been working as a saleswoman in a supermarket, has just taken care of baby Alisa. Now she, too, can take a moment to breathe. "For the first time since this morning," she says, laughing with relief.
It is common for people to wait out the war in their homes for as long as possible. Time and again, people who have fled tell similar stories, says Liuba Mirsa, 28, who welcomes people in a bright yellow Helvetas vest at the transfer station. The stories sound familiar to her: Liuba (whose full name, Liubov, means "love"), fled Ukraine for Moldova with her three children. She lived with her partner, a Ukrainian drone video producer, in a small town near Kyiv. On March 3, a week after the war started, she felt the vibrations of a nearby missile strike for the first time. As the explosions came closer and closer, she decided to flee with her children – to Palanca, where Liuba is originally from and where her parents still live today. She had to leave her partner behind: Ukrainian men aged 18 to 60 are not allowed to leave the country; they may still be needed for the war. "I am very worried about him," Liuba says.
Once she arrived in Palanca, the trained nurse registered at the municipality. She wanted to find work as soon as possible so as not to be a burden on her parents. They live on a monthly pension of $375, and having to care for four more people is a big financial burden for them. Liuba was happy when she heard a few days later that Helvetas was looking for staff to welcome war-displaced people, and she got the job as a coordinator.
Aleksandr, 67, recharges in the warming tent after the journey from Ukraine.
© Patrick Rohr
1/4
Liuba receives the refugees and helps coordinate their onward journey.
© Patrick Rohr
2/4
Liuba poses with Yevgeniya and her family in front of the buses that bring refugees to Palanca.
© Patrick Rohr
3/4
Viktoria Sgerya and her daughter, Alisa (10 months), are cared for by Liuba Mirsa at the Helvetas Help Point.
© Patrick Rohr
4/4
Advice and help for refugees
Since late March, Liuba has been standing at the Palanca transfer point every day from early morning until dark, welcoming the refugees who arrive. She stands alongside Alexandr and Calin Kostenko, two brothers who are also originally from Palanca but lived in Ukraine. Their homes are in Odessa, 50 kilometers away, where they emigrated 15 years ago and now live with their families. Because they are Moldovans, they were allowed to leave the country. Back home, where they now live with their families in the house of their deceased parents, they too looked for work as soon as possible, and were happy to be able to work with Helvetas to support displaced people.
Some refugees arrive in their own cars. Others make their way from the border post in small buses to the transfer point in Palanca, where Liuba and her two colleagues greet them alongside staff from other organizations and ask about their needs. Most refugees want to move on as quickly as possible – to the Moldovan capital, Chisinau, for example, where they are temporarily accommodated in a reception center. Or to the Romanian capital, Bucharest, from where they can travel to other European Union or Schengen countries like Switzerland without major hurdles. Some are happy to take a short break here in Palanca and get some food. "But they can't stay here too long," says Liuba. "If many refugees come at the same time, it gets crowded very quickly. We're not set up for overnight stays, either."
Context in Moldova: Support for host families
Learn how we're providing support to Moldovan families who are hosting refugees.
Distance learning from Ukraine
Meanwhile, Yevgeniya's family is ready for the onward journey. All nine of them get on the bus to Bucharest. Yevgeniya, a computer science teacher, begins to cry. She worries about her graduating class – 21 teenagers she last saw shortly after the war broke out. "I have no idea what happened to them," she says. "We were supposed to be preparing for the prom." As a teacher, Yevgeniya feels like a second mother to her students in Ukraine. Not knowing how they are doing is breaking her heart.
«
Otherwise, he'll forget how to do math, which is much more complicated in Moldova than in Ukraine.
»
Liuba Mirsa, 28, Helvetas Coordinator, speaks about the Moldovan school system
Liuba waves goodbye to the Sgerya family and gets on her bicycle. At 2 p.m., the online lessons begin that Ukraine offers every afternoon for children who have been displaced by the war. For this, she has to bring her cell phone home to nine-year-old Roman; the family does not have a computer. All three of Liuba's children speak Ukrainian as well as Romanian, the Moldovan national language and the language of their mother. That is why the two younger ones, four-year-old Oleg and three-year-old Nina, can go to kindergarten in Palanca. Roman attends the third grade here. Nevertheless, Liuba doesn't want him to miss out on Ukrainian classes: "Otherwise he'll forget how to do math," she says, laughing. "The system works very differently in Moldova; it's much more complicated. He'd better stick with the Ukrainian system – I trust it more."
Liuba is convinced that this war will soon end and that she will be able to return home with her children.
This is the perspective of most people who have fled across the border to Palanca. They have left their homes because there was no other option. From time to time, individuals go back because the areas they came from are quiet for the moment. "We'll come back [to Palanca] when there's bombing where we live, but right now we're of more use at home than sitting around here," says one woman as the boards a bus with her daughter. The bus is headed back to the border to pick up new war-displaced people – people who come from places where the bombs are still falling.
Support and onsite translation was provided by Yevgeniya Inozemtseva, a staff member of the German Embassy in Kyiv (currently in Poland).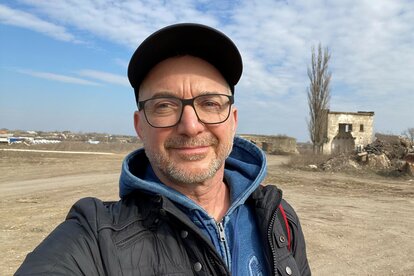 Patrick Rohr
Photojournalist Patrick Rohr visited Ukraine repeatedly for his own photo reports in 2015 and 2019. He regularly reports on Helvetas projects in Asia and Africa.