One year after the outbreak of war in Ukraine, Helvetas, the Swiss organization for development cooperation and humanitarian aid, is expanding its commitment in Ukraine. It has also begun reconstruction work. In neighboring Moldova, it continues supporting people who have fled Ukraine, as well as local host families who themselves barely have enough to survive. The need is still great.
The Ukraine war has already lasted a year and has had catastrophic consequences. Millions of people have been displaced abroad or have become displaced in Ukraine itself. Helvetas, the Swiss organization for development cooperation and humanitarian aid, is involved on the ground and in neighboring Moldova, the poorest country in Europe.
Ukraine: repair of destroyed houses, emergency shelters, access to drinking water
Helvetas helps rebuild and insulate war-damaged houses near Kyiv. The Swiss nonprofit organization works closely with its Ukrainian partner organization Despro and the Swiss organization Skat Consulting. Those affected receive cash aid through which they can repair their homes – roofs, doors, windows and heating systems. Helvetas pays particular attention to vulnerable victims, such as the elderly, the disabled or the very poor. We regularly check to ensure that planned work is progressing.
The Swiss NGO has already restored access to clean drinking water for over 30,000 people and improved water supply systems. In addition, showers and washing facilities have been installed in emergency shelters for those in need.
Because so many people have been forced to flee within Ukraine, Helvetas is helping local authorities to develop suitable emergency shelters as well as procure the necessary equipment and install infrastructure, such as sanitation and heating, in the Ivano-Frankivsk region.
To date, Helvetas has provided humanitarian aid to around 50,000 people in Ukraine. It is currently expanding its aid in Ukraine – thanks to Swiss Solidarity and together with its partner organizations. The aim is to support even more people in need, including in the Ternopil and Kharkiv regions. In Kharkiv, small initiatives initiated by civil society are supported directly, including reconstruction projects and repair workshops for war-damaged houses and infrastructure. Helvetas also promotes circular construction, which involves using rubble and recycled materials to reduce the environmental impact of the war during reconstruction.
Urgent aid in neighboring Moldova for refugees and host families
Helvetas is one of the few international organizations that was already working in Moldova before the outbreak of war. Thus, the NGO was able to begin targeted emergency aid immediately after the outbreak of war and started – with the support of Swiss Solidarity and the SDC – with assistance at the border. Since then, Helvetas has been supporting arriving refugees with basic necessities: meals; rest areas for pregnant women, mothers with small children, the elderly and those with disabilities; transport to the capital, Chisinau, or to reception centers; and distribution of sim cards so that refugees can stay in touch with relatives or organize their onward journey, and children can take part in the digital lessons offered by some Ukrainian schools.
Helvetas also supports collective housing for refugees and host families in Moldova who have taken in people from Ukraine despite their own poverty, many of whose needs have been heightened by rising prices and energy shortages as a result of the war. They receive financial support and help with the insulation of their homes.
So far, Helvetas has been able to provide nearly 20,000 refugees in Moldova with the most urgent necessities and financially support around 7,000 Moldovan host families. Helvetas plans to provide medium-term support in addition to emergency aid. Vocational training courses will help refugees integrate into the local labor market and generate their own income, thereby creating future prospects for themselves.
Further information:
Further information: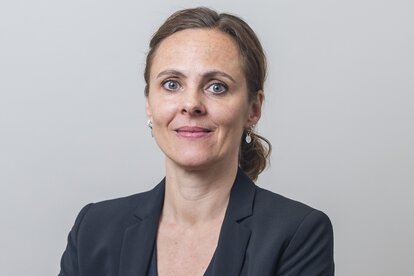 Coordinator Media Relations
Katrin Hafner
Images for download (The images may only be used in this context and with copyright reference - or after consultation with Helvetas)