It is not different in the water, sanitation and hygiene (WASH) sector. Not surprisingly, compared to unmarried women, married women, restricted by their husbands, have less access to information regarding their rights to clean and safe water, adequate sanitation and hygiene.
In this blog post, we share the experience of the Amhara Integrated Rural WASH (AIRWASH) project in Ethiopia. The project had initially focused specifically on capacity building of individuals. Capacity building on households and communities was later added to the intervention. This new emphasis highlights the importance of gender division of labour, and of actively engaging them in gender equality at three levels – individual, household and community. The aim was to stimulate the behavioural change of men and transform gender roles by promoting more gender-equitable relationships between men and women.
Understanding root causes of exclusion
Women (and girls) are primary users, providers and managers of water at their households in Ethiopia. Yet their access to information, training and decision making concerning WASH is very low. Women's multiple roles, responsibilities and heavy workloads leave them with no space for involvement in decision making related to water and sanitation resources.
A strong narrative exists, particularly in rural areas, that defines women's and men's roles, and dictates responsibilities in households, markets and public life in their communities. Social norms shape and sometimes reinforce gender inequalities of power – that women can only receive information through their husbands and have little to contribute to decision making. Married women did not understand their rights to WASH services, but considered them as a gift from the government and/or other institutions. Their participation in WASH activities was therefore insignificant. This is where the AIRWASH project intervened – to facilitate changes in social norms through collective agency (where couples act together).
Facilitating changes in social norms
Far in the northern part of Ethiopia, the "WASH couple capacity building" was the first of its kind in the history of the Amhara region. The intervention consisted of training sessions, experience sharing among the invited couples, an exchange visit to a gender model village and monthly community discussions. Woreda (district) and Kebele (ward) partners were consulted in the process.
Twenty-six couples, three single women and three facilitators from Meha village were invited. The events were arranged at times and places which were favoured by the women. The contents of the training included gender issues, gender mainstreaming in WASH, water points management, sanitation and hygiene issues, as well as social inclusion.
Soon after the training, a one-day experience sharing visit was arranged to Awuramba, a nearby community known for ensuring gender equality and social inclusion. This experience sharing visit enabled couples to grasp lessons on gender equality issues (e.g. waste disposal and water system management, improved latrine building, installation of hand washing facilities next to latrines). After returning to their homes, refresher training was given twice to strengthen the use and management of WASH services. There has been monitring and follow-up by the Woreda partners and the project staff.
What has changed?
The engagement of couples demonstrated to men that they could indeed benefit from greater gender equality, as for example the pressure of being the main breadwinner of the household is lifted and they build healthier relationships with their wives. This also helped them, contrary to their fear of losing power and privilege, understand what their households have to gain from their wives' engagement in WASH and how they could support them.
"I thought to participate together with my husband in a training session was something unimaginable", says Workinesh Assefa. She used to fetch water from a nearby stream, getting up early in the morning and spending hours queuing. Her husband, Belay Mazngia, would never support her taking care of their children while she was away.
As women's self-confidence grew, so did their active involvement in all WASH activities, resulting in improved ownership of WASH services. For example, they were active in site selection and keenly involved during the installation of hand-dug wells. Couples worked together to set up operation and maintenance systems for the newly constructed water points. Women pressed their husbands to construct pit latrines, as they realised that the latrines provided them with privacy during the daytime – a key constraint for women without toilets that leads them to eat and drink less during the day. Some husbands bought sanitary pads for their wives, as they understood that menstruation is natural.
Some challenges however remain. High levels of illiteracy in the villages limited the pace of stimulating changes within a reasonable timeframe. The approach chosen has rather been resource intensive. There are also concerns about the potential of upscaling despite working with local government institutions and their support to the approach is highly promising.
Key takeaways
Acknowledging the dynamics of couple relationships: projects too often see women as "autonomous agents" rather than understand the complex dynamics of their relationships with men. Even when men are not direct participants or beneficiaries, they have a huge influence on women's engagement. Interventions therefore should carry out assessments of men's views and participation with a view toward understanding the diversity of men's voices and responses.
Getting partners on board: long-term and large-scale impacts require the participation of those who have the power and leverage to work with poor and disadvantaged women and men. Getting there requires bringing on-board champions from the start – public and private sector as well as civil society and community leaders who are not afraid to challenge the status quo. Partners have to share the vision of empowering women; this has important implications for their selection from the outset, and subsequent interactions regarding capacity building and incentives.
Assessing and understanding social norms: men and women do not exist in isolation from surrounding informal rules and social norms. In other words, it is not simply the interaction between men and women that determines the outcome of gender equitable relationships. Complex networks of social norms are often at play. Understanding how social norms work and navigating them carefully for effectively influencing positive changes is highly important.
Authors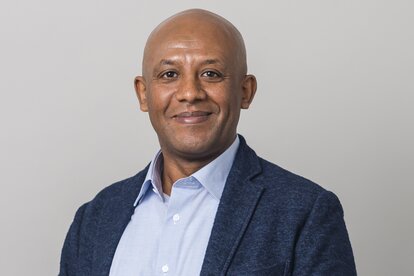 Programme Manager, East Europe, South Caucuses & Western Balkans; Senior Advisor, Sustainable & Inclusive Economies
Nigussie Mihretu
Nigussie Mihretu is a gender and development specialist with long experience in mainstreaming gender and youth in development sectors. Besides, he has extensive experience in capacity building and social inclusion. Currently, he is working as a gender and capacity building officer for AIRWASH Project of Helvetas Swiss Intercooperation Ethiopia.