Sixteen-year-old Gori Tamang from Helambu Rural Municipality, Sindhupalchwok district had faked her age to make passport and flown to Kuwait to work as a domestic help. There she got trapped for ten long years until the Migrant Resource Center (MRC) facilitated her rescue a few months ago.
Gori's brother Sun Bahadur Tamang, 34 said the family lost contact with Gori after five months of her reaching Kuwait. Since he was working in India he did not have much idea of finding her whereabouts. "Twice, I travelled to Kathmandu and filed report at the Ministry of Foreign Affairs (MoFA) for her rescue. But it did not happen and I had no other idea how to look for her," Sun Bahadur said.
After years of wandering, in August 2021 he encountered a psychosocial counselor mobilized in his community by Safer Migration (SaMi) program. The counselor suggested Sun Bahadur to file an application at the MRC in Sindhupalchwok. He did so during the same month.
Upon receiving the case, the MRC forwarded it to Pravasi Nepali Coordination Committee (PNCC), a national partner of SaMi. PNCC facilitates cases related to destination countries. Gori travelled to Kuwait on work visa. Therefore, Sun Bahadur was able to trace the contact number of Gori's employer during his visit to MoFA. This made it easy for the embassy get hold of the employer.
«
"I had no hope of coming back to Nepal," a pale looking Gori threw a faint smile and added, "But I did not know that my brother was putting all his effort to bring me back."
»
Gori Tamang from Helabhu Rural Municipality, Nepal
Continuous effort and follow-ups from the embassy of Nepal in Kuwait, the MRC and the PNCC led to Gori's return home last November. But it did not happen easily. The embassy tricked the employer to bring Gori to the embassy. When the embassy contacted the employer, he had said that Gori was happy working for him and did not want to go home. However, the embassy convinced him that it had no issues with her working for him, and advised him to get her passport renewed. The employer agreed and brought her to the embassy.
At the embassy Gori met her Mitini (A friendship between two friends of the same gender formalized by following a ritual that also brings two related families closer and binds them forever), whom she could hardly recognize. "My Mitini informed me how desperately my family was searching for me," Gori added, " Despite the fact that my life there was like hell, I could not dare tell them that I wanted to return home." She said she had to work 20 hours a day but never got paid. "Since I did not have money, I did not have the courage to return home. I wondered who would help me fly back."
When she was having her conversation with her Mitini, the employer was hurrying her up to accompany him back to his place. After hearing about her family and sharing her plight with her Miniti, Gori declined going with the employer. After staying at the embassy's shelter home for 15 days she returned to Nepal. The embassy also coordinated to get her salary paid. Though she did not get the full amount, she received NPR 1.6 Million (approximately 12,000 USD), which was only half of what had been promised to her by her employer at the rate of 50 Kuwati Dinar (approximately 160 USD) per month. "Now all I want is to get some skill and to work in Nepal and never go abroad to work," she expressed her hope.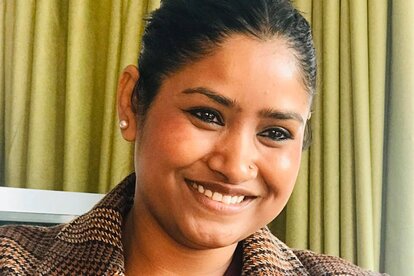 Sangeeta Rijal