The debate on youth unemployment, long reduced to mere statistics and policies, is misaligned with youth expectations. Many of them, for lack of education and other reasons, don't get jobs and/or work, and even fewer know the mechanisms and opportunities to get them. Behind the numbers, widely published in reports from the most diverse institutions, there are known lives and faces of youth people affected by the problem of unemployment. Some are family leaders and, therefore, empowering them means thriving communities.
Neussa Fernando, Alaina Júlio and Ramassane Marchane, are three youth people from different needy families who swelled the national statistics of youth people without training and unemployed, until they were graduated recently, following the completion of short-term vocational training that they had been attending since the beginning of this year.
The training, is part of the HOJE project (Habilidades mais Oportunidade resulta em Jovem com Emprego), implemented by HELVETAS Mozambique. This is an innovative approach that seeks to develop practical skills of youth people (know-how) in strategic sectors with greater demand for labor. It is, therefore, a solution adapted to address the problem of youth unemployment.
"Before joining the training, I was dedicated to farming on the family farm, but as soon as I learned of the opportunity to train in cutting and sewing, I applied immediately. My goal has always been to have a skill to help my family financially. With this course I can easily start self-employment. I learned how to make skirts, shirts, dresses, baby accessories, mold capulanas, sew turbans, kitchen aprons, and bread bags. Now I'm thinking of starting my own business," Neussa said.
Unlike Neussa, Alaina wants to replicate everything she has learned, working as a sewing master, to train other young people who are looking for opportunities to develop life skills and professional careers. It is a dream that comes from far.
"I recommend other youth people to be aware of these kinds of opportunities, because by having an education, in whatever area it may be, youth people will have more possibilities to improve the living conditions of our families," Alaina explained.
Meanwhile, Ramassane, a recently graduated carpenter, dreams of opening his own workshop to encourage his friends and family to bet on training and thus avoid getting involved in illicit activities.
"This training has helped me, and I want to be an example to my friends in the community where I live. I want to encourage them to stand for honesty and legality. I was afraid of being marginalized, so my big concern was to learn how to do something that would give me income."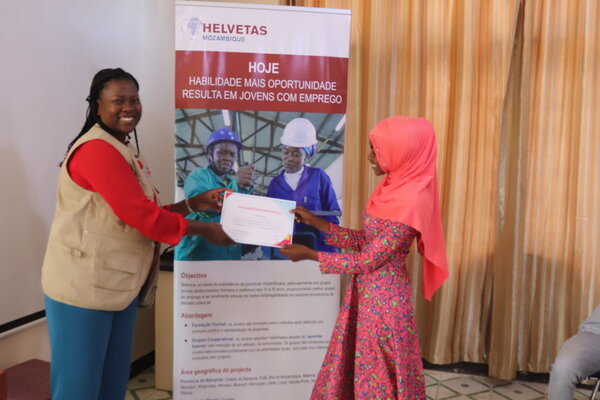 The short training (6 months) is part of the Cooperative Group approach adopted by the HOJE project and consist of five youth people grouping together to "learn by doing", under the instruction of a craftsman and/or master, in a community workshop. The Youth are selected together with local authorities, based on the criteria proposed by the project.
These three youth people with entrepreneurial visions, notably, Neussa, Alaina and Ramassane, are part of a total of 100 youth people who graduated last July, 25 in the city of Nampula, 30 in Nacala-Porto, 15 in the district of Ribaué and 30 youths in the district of Cuamba (Niassa province). These are graduates who are ready to undertake their businesses and competitively serve the market in different sectors of economic activity.