One of the main challenges we have encountered is the limited access to vocational education and training opportunities for rural youth. To address this issue, we have involved local artisans and peer-to-peer artisans. Their involvement has made a significant difference in the lives of these young people, enabling them to complete their training and pursue their aspirations without financial worries.
Helvetas has gained extensive experience in ensuring gainful employment and income for disadvantaged youth through effective partnerships. Examples include fostering collaboration between local artisans and employers, empowering local government officials and artisans to identify economic opportunities, providing market-relevant vocational training, and implementing results-based financing in training provision.
To address the challenge of limited access to vocational training in rural areas, where dropout rates are high due to financial constraints, we have engaged local artisans to support financially disadvantaged youth by providing transportation and meals during training. This has enabled more young individuals to complete their training without financial worries. However, further efforts are needed to ensure equal access to resources for all youth.
Working with local artisans has been invaluable for disadvantaged youth, allowing them to acquire diverse skills, gain industry experience, and take pride in their craftsmanship. By leveraging the expertise of local artisans, we create an environment where young individuals can thrive and reach their full potential.
CAPACITY BUILDING FOR LOCAL ARTISAN
For local artisans to be competent, the YES project has been providing different training to them like pedagogy training, and digital data collection training to help capacitate them to impart knowledge and pass on their skills to the youth in their communities.
Local artisans provide an invaluable service to the community, teaching youth the skills they need to succeed in the future. By working with these artisans, youth have an opportunity to learn about traditional techniques and processes that they may not have access to otherwise. This helps them gain a better understanding of their chosen profession and how it fits into their local community.
HOW LOCAL ARTISANS CONNECT COMMUNITY IN THE LOCALITY
Engaging local artisans gives disadvantaged youth the chance to connect with others in their community. This connection can help build relationships between individuals and create a strong sense of belonging among those involved in the project. Local artisans have long been a part of the cultural fabric of many countries. Their craftsmanship skills and knowledge passed down through generations are invaluable to many communities. But how can we assess if these artisans can impart their knowledge and experience to others?
This is an important question for those who want to promote local artisanal skills, as well as for those who are looking for ways to support them. By assessing their experience in craftsmanship and capacity, we can identify whether they are able to share their expertise with others. This assessment has always helped us determine what kinds of resources and support they need in order to pass on their valuable knowledge.
PEER-TO-PEER LOCAL ARTISAN
This is very different from local artisans, these peer-to-peer youth are former yes graduates, who performed well after training and are well established in their own business venture. The need to change to this approach was to inspire and motivate other youth into believing that upon completing training they can succeed, and it is very possible to sustain a living with the skill they have obtained.
In the course of our implementation, we have come to recognize the pressing need to support marginalized youth in their journey towards economic empowerment and overall well-being. Despite the presence of vocational training institutions in various regions, the enrollment of youth in these programs remains low. The geographical barriers and high costs associated with these institutions, primarily located in urban areas, pose significant challenges for rural youth to access such opportunities.
Through this innovative peer-to-peer approach, our project has successfully expanded the accessibility of vocational training for marginalized youth. By receiving training within their localities and from their peers, these young individuals are empowered to develop their skills and pursue their chosen vocations. This approach was introduced due to some challenges facing youth who joined TVET like lack of bus fare, high amount needed to pay for those youth who joined at boarding institute, high amount to pay for outreach session, long distance to training station.
Another significant challenge is the shortage of specialized trainers or mentors in these regions. The absence of qualified professionals restricts the availability of diverse knowledge and expertise for peer sharing potentially limiting the effectiveness of the training. This has assured the slow progression of the approach. Additionally, socio-economic inequalities established in rural areas contribute to unequal access to educational opportunities, heightening the inequalities in skills and knowledge among peer learners. Overcoming these challenges requires innovative strategies, such as investing in digital infrastructure, facilitating mentorship programs, and implementing tailored interventions to bridge the educational divide between rural and urban areas. This approach has been used to overcome those challenges but also fosters a sense of familiarity and relatability, enhancing the effectiveness of the training program.
Project background
Since 2018, Helvetas Tanzania has been implementing the Youth Employment through Skills Enhancement (YES) project, focusing on the Central Corridor districts of Dodoma Urban, Singida Municipal, and Singida Rural. Our aim has been to provide relevant vocational training programs that meet the demands of the local labor market.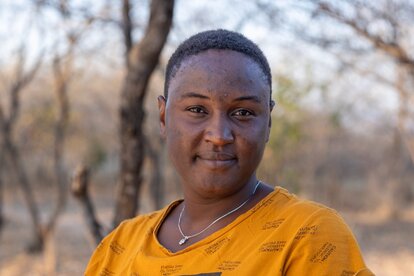 Monitoring and Evaluation Coordinator
Doreen Kimbe, Msc. in Monitoring and Evaluation
I am Doreen Kimbe and I work with Helvetas Tanzania in two skills development projects as Monitoring Evaluation and Learning officer. I graduated from the University of Dodoma with a bachelor's degree in project planning management and community development and a master's degree in Monitoring and evaluation. I have 7 years of working experience in monitoring and evaluation in international organizations implementing projects in humanitarian and development context.